By Erin Milburn on Monday, September 18th, 2017
Minneapolis, Minnesota (September 18, 2017) – The Twin Cities housing market continues to show signs of high demand and short supply. While June 2017 marked an all-time home sales record for the Twin Cities, closed sales showed a year-over-year decline for the second consecutive month. The number of sellers listing their homes increased slightly, but that wasn't enough to counteract the inventory drop. New listings increased 0.7 percent from last year to 7,264, and closed sales dipped 1.4 percent. The number of homes for sale decreased 16.7 percent to 12,602. Factoring out foreclosures and short sales, traditional new listings rose 2.4 percent while traditional closed sales increased 0.9 percent.
With many consumers competing for limited homes, prices remained firm, a trend that should continue into the fall and winter months. The median sales price rose 6.8 percent from last year to $252,000—a new monthly record for August. Home prices have now risen for the last 66 consecutive months or 5.5 years. At 48 days on average, homes went under contract 14.3 percent faster than last August. Sellers who do list are averaging 98.5 percent of their original list price, 0.6 percent higher than August 2016. The metro area has just 2.5 months of housing supply. Generally, five to six months of supply is considered a balanced market where neither buyers nor sellers have a clear advantage.
"The shortage of homes for sale is still driving this market," said Cotty Lowry, Minneapolis Area Association of REALTORS® (MAAR) President. "It's been the story for years, and it continues to influence prices, sales, market times and other indicators. The graphic illustrates how listings and sales have converged, leaving very little product lingering on the market."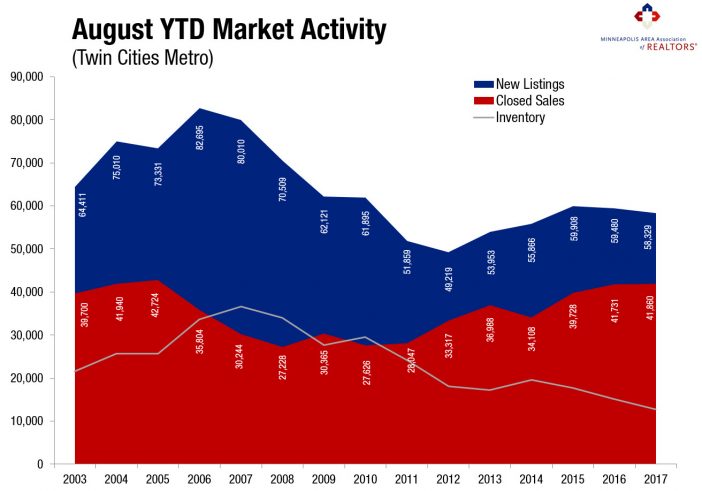 The shortage is most acute for entry-level homes. Well-priced, turnkey, well-presented listings are most competitive. Market times and absorption rates are tightest for homes priced under $200,000. For example, homes between $150,000 and $190,000 had 1.4 months of supply. As you move up the price ladder, the market is less competitive and better supplied. Homes priced between $500,000 and $1,000,000 boast 6.0 months of supply, while homes over $1,000,000 have a plentiful 12.3 months of supply.
The most recent national unemployment rate is 4.4 percent, though it's 3.3 percent locally—the fourth lowest unemployment rate of any major metro area. A thriving and diverse economy has been conducive to housing recovery, as job and wage growth are key to new household formations and therefore housing demand. The Minneapolis–St. Paul region has a resilient economy with a global reach, a talented workforce, top-notch schools, exposure to the growing technology and healthcare fields, and a quality of life that's enabled one of the highest homeownership rates in the country.
The average 30-year fixed mortgage rate has declined from 4.3 percent to 3.8 percent recently, still well below its long-term average of around 8.0 percent. Although at least one more rate hike was expected this year, the Fed is now focused on unwinding its large portfolio. Additional inventory is still needed in order to offset declining affordability brought on by higher prices and interest rates.
"We're always impressed by how determined buyers are, despite the supply hurdle," said Kath Hammerseng, MAAR President-Elect. "That said, prices are rising faster than incomes and builders are focusing on higher-end product further out while the demand is strongest for affordable product closer in."
Questions? Contact David Arbit, MAAR's Director of Research + Economics | davida@mplsrealtor.com
From The Skinny Blog.